While attending occasional functions, business meetings or other celebrations, wearing suitable accessories along with trendy dresses helps in making the personality impressive as well as adding prettiness to the wearer. If a priority is given to the jewelry, then it becomes essential to choose an appropriate outfit that best suits the selected jewelry. Here we are about to discuss what kind of outfits are best to wear with a Ruby and Pearl Necklace.
Best Outfits for A Ruby and Pearl Necklace
For a long time, pearl necklaces, along with rubies, have always been appreciated worldwide. These are so fabulous and perfect for every occasion that they are being admired by just about every single woman or girl. While pearls provide a rather attractive appearance, the presence of blood-red rubies are known to give a kind of royal look.
As they carry their definition of beauty and are unique among all the available gems. They are always preferred for casual as well as special occasions. To add a stunning appearance to these accessories, it is quite preferable to select suitable outfits for them. Following are some accessory patterns which are majorly in demand these days along with the suggestions of selecting their proper outfits.
1.Single Layered Necklace
A simple, single-layered necklace is the best option for almost every occasion. Due to its light weight, it becomes easy to carry and hence, is given top priority by many women. Such kinds of necklaces usually are suitable with every dress, and also increases the beauty of the lady wearing it.
However, if it contains more pearls and a comparatively smaller number of rubies, it would be best to wear it along with casual outfits like white denim with stripes, cable knit sweaters, etc. Further, these necklaces are also considered as appropriate to wear along with official dresses like formals, coat- pants, coat- skirts and similar others as they contain simplicity and soberness within them.
2.Chunky Pearls along with Small Rubies
These days, necklaces having chunky pearls are also in trend. They may also contain small rubies at the ends to provide a kind of classy look to them. These are suitable for casual outfits. On an additional note, it would be great to wear such a necklace on white shirts along with blue denim. Other than that, one can also wear them with sweaters. Being light weight, they are perfectly suitable for sweaters and beautify the wearer's appearance.
3.Back Drop Necklace
A backdrop necklace is one of the most stunning necklaces available in the range of ruby and pearl accessories. It provides a rather admirable, instant eye-catching look to its owner. However, these are not preferred to wear along with casuals or formals as they are best suited as party wears. For such necklaces, white festive dresses are considered as the best. Other than these, bright, shimmery, backless party wear gowns are also recommended for such accessories.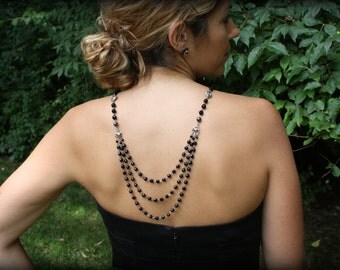 4.Freshwater Pearl Chokers along with Small Rubies
This is suitable for those girls who are rather attached to a funky or tomboy look. These ladies usually don't prefer heavy accessories, and thus, they are interested in light ones. For such ladies, single freshwater pearl chokers along with small red rubies at both ends are considered as the best. Being light-weight, they give a quality look and can be easily worn everywhere without looking too festive.
5.Multi-Layered Pearl and Ruby Necklace
Here comes another pattern of pearl and ruby accessories. A multi-layered ruby and pearl necklace provides a stunning look to its wearer, especially if it is worn along with appropriate outfits. Usually, it is advisable to consider such a necklace while wearing a dress to mark anniversary day, any marriage occasion, or for similar other occasions. Further, they can also be worn along with dresses like suits, festive skirts, and similar others.
6.Necklace Consisting a Single Ruby With a Pearl Beneath It
This type of necklace looks quite nice with normal party wears. However, it is not recommended to wear it along with heavy dresses. Dresses like one piece skirts, or simple gowns are considered as the best outfits for such necklaces. However, one can also rock these ornaments with casual clothing like a simple jeans top, jumpsuits, skirt tops, and similar others.
Other Patterns
Other than the patterns mentioned above, there are many stylish designs and innovative carvings of necklaces which are admired by many ladies. Some of them include a greater number of pearls than rubies while some others are designed in such a manner that they have a lesser number of pearls.
A few others are designed to acquire only pearls or only rubies. All these necklaces are unique in themselves. One just needs to select an appropriate one to look festive for the particular occasion. Surprisingly, the trend of these accessories also changes along with seasons. For instance, it would be best not to prefer heavy necklaces in winter season as they usually do not work with sweaters or jackets.
For the winters, it is quite recommended to prefer light necklaces or necklaces having chunky pearls. Other than that, one may also select from the available range of unique layered necklaces. Fortunately, during summers, one has the leisure to select the appropriate neck ornament without having concerns of matching it with sweaters.
Hence, during this season, a large variety of neck accessories is available.
Furthermore, there exist some stunning ruby contained necklaces. These are specially designed for wedding or anniversary occasions as they look best with heavy gowns and dresses. Such necklaces are known to be heavier than the others as they contain particularly larger than average pieces of rubies.
These can be single layered as well as multi-layered. A rapidly increased demand for such patterns encouraged the designers to invent more varieties of this range. As a result, today's world witnesses the most adorable and pretty designs of ruby necklaces. Although, these are quite costly, they are considered as superb everlasting jewelry items, and hence, are never out of trend.
By considering the above things, one can make sure to give her best looks at occasions and prove to be an extraordinary personality.